Snapshots: Running, green stuff + dressing up
15 mrt 2013 /
Dagelijks leven
About time for a new update of my life in snapshots? I thought so! Warning: prepare for lots of healthy foods! Although, this doesn't summarize my "diet" accurately enough – it's merely a reflection of my healthiest choices the past weeks. I'm not saying that anything I don't take pictures of is unhealthy, just know that I don't always eat perfectly healthy! I'm human, after all ;)
Working on my report about my internship in the library; this was my healthy snack box I brought ;)

I've started running! I'm taking a six-week course and at the end I'll (hopefully) be able to run for at least 20 minutes straight. You can read about my first experience at Just Keep Running, by the way!
EkoPlaza, my favorite "health store" in the city. All really great healthy, biological, organic products! Too bad it's a little expensive, so I don't go there often. Makes going there a treat, though!

Working out those legs… and taking some much needed rest after ;)
Polkadotted nails, I love it!

Playing dress-up ;) I have actually never worn this dress anywhere since I bought it, it's a shame! Oh, and those are my absolute favorite high-heeled shoes, they're the only ones I can actually walk, stand and even dance on for more than five minutes ;)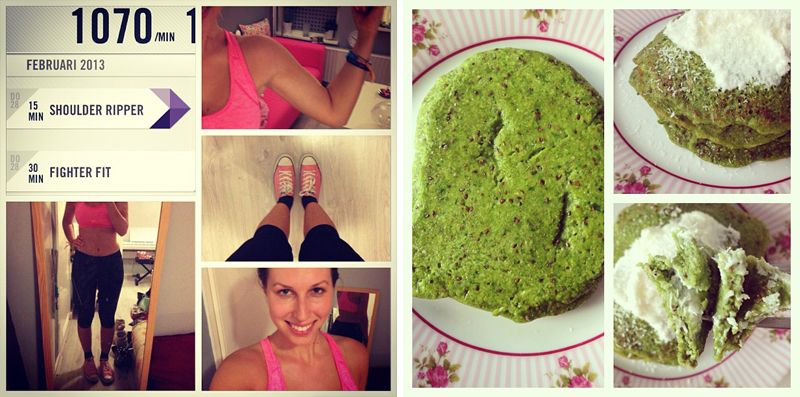 I'm really into working out, can you tell? This was after I had been sick a few days, so I was proud to have completed 45 minutes :)

The famous green pancakes! Recipe is here.
My awesome running shoes!

Very, very good lunch… toasted spelt bread with goat's cheese, walnuts and honey.
If you follow me on Instagram, you probably know that I love eating oatmeal for breakfast. Preferably with a different fruit topping every day. Oh, and never without a side of green tea and fresh orange juice!
One of my fave toppings: blueberries and coconut.
Inspired by fellow blogger Sharon, I decided to start with Jillian Michael's 30 Day Shred. You do a 30-minute workout every day for 30 days – there are three levels, you do each one for 10 days. So far, I love it!
Wearing my glittery black blazer for a meeting at school. Should wear this more often!
Working out, working out, working out ;) And rewarding myself with a green smoothie after is always a good idea! This was spinach, almond milk and frozen blueberries, I sweetened it with some stevia. Man, this smoothie was good.
Pumpkin seed + cheese bread. Love love love it!
My first "Throwback Thursday" picture I posted on Instagram; this was back in 2009, when I had blonde hair. Opinions differ about my hair color… I say blonde looks good, but will never look better than my natural hair color! Which is dark brown, if you didn't know yet ;)

After my first Start to Run meeting! It was raining and kind of cold, but that didn't stop me from loving it! Feels good to be active.
Outfit & look of the day.

Made some healthy brownies. Will be posting the recipe on the blog soon!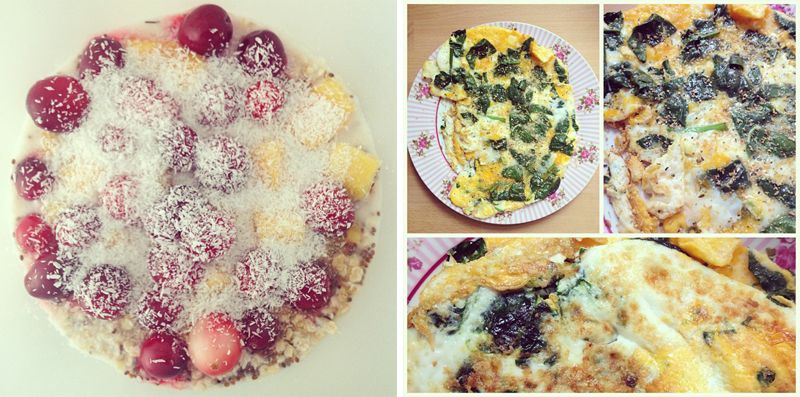 Breakfast: oatmeal with lots of fruit (mango & cranberries) and coconut.

Post-workout lunch: eggs with spinach. I spy a new favorite!
Spent time on the couch reading Cloud Atlas yesterday, finished reading it this morning. Wow, it was such an amazing book. Mindblowing! Complicated at times, but a super interesting, exciting and perfectly composed book. Must read! I think I will write a review about it to post on here :)
Finished my 30 Day Shred workout and made some delicious savory scrambled eggs with spinach and tomato. Oh so good & very filling.