Snapshots of my life #7
21 feb 2013 /
Dagelijks leven
Time for a visual update on my life again! Prepare for lots of food pictures ;)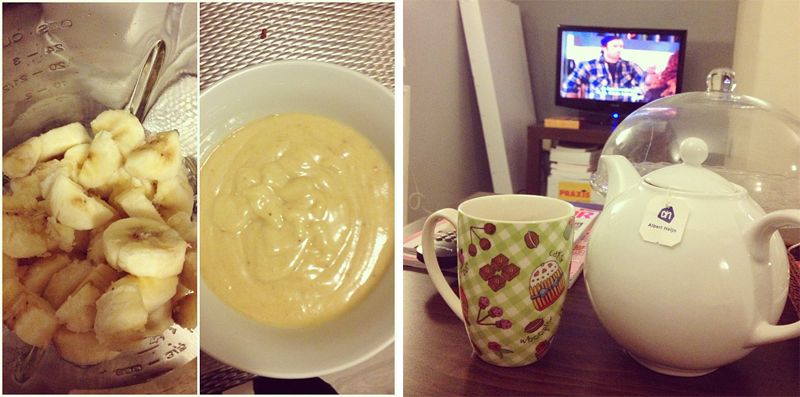 Made some super easy icecream from frozen bananas + a little cashewbutter.

I'm becoming a green tea junkie, as well as a Gilmore Girls junkie! The both of them together… well, you can imagine that's like heaven for me ;)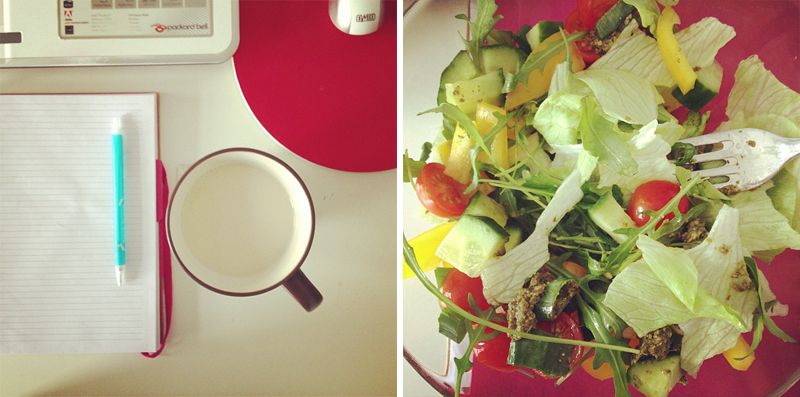 Brainstorming session for my graduation project. 

Salad salad salad! I blogged about this one here.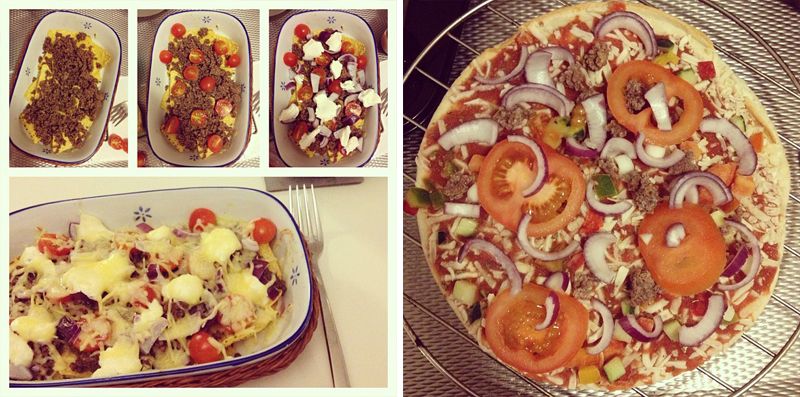 Super yummy dinner, I'm getting hungry just looking at it! So so good, and really simple. I know I'm a tease, but recipe on the blog soon! (Though it's not hard to figure out if you study the pictures ;))

Frozen pizza topped with fresh tomatoes and red onion, yum. Did I ever mention how much I love red onion?
Cozy time on the couch with a blanket and Gilmore Girls on my tv.

Green tea time!
I finally got a couch!!! Yes, I'm super exciting about that, 'cause in the 3,5 years I've been living by myself I never had a couch before! And it's PINK, hello amazing couch!
I love this little guy so much! How cool does my nephew look in his sweater & cap? He's turning 3 already this June, time flies.
Did some late night easy baking: sugarfree cinnamon meringues. I'll write a blogpost with the recipe for you, stay tuned.

Breakfast heaven! Accidentally scrambled my pancake, but that didn't make it taste less amazing of course. Yum.
I sorted through all my books and ended up sorting them by size. Me + books + organizing = perfect combination! Evening well spent.

Made these delicious little balls after finding a recipe and discovering I had all the ingredients at home. Recipe will be blogged!
Aahhh, more breakfast goodness. Can't help it!

Eggfree scrambled mess for breakfast, very very tasty!
My treat after a workout: a green smoothie. Green smoothies don't have the best looks, but their taste is so good. And it makes your body feel good!

Simple simple lunch: toasted spelt bread with cucumber & red bell pepper on a bed of spinach (which has quickly become one of my favorite vegetables – uncooked that is).
Seriously good chocolate cupcakes, and seriously healthy too. You probably know what I'm gonna say next: recipe will be up soon!

Took an hour-long walk around my (new) neighbourhood. Perfect to relax, listen to my favorite music and clear my head a little. Plus it's a nice exercise.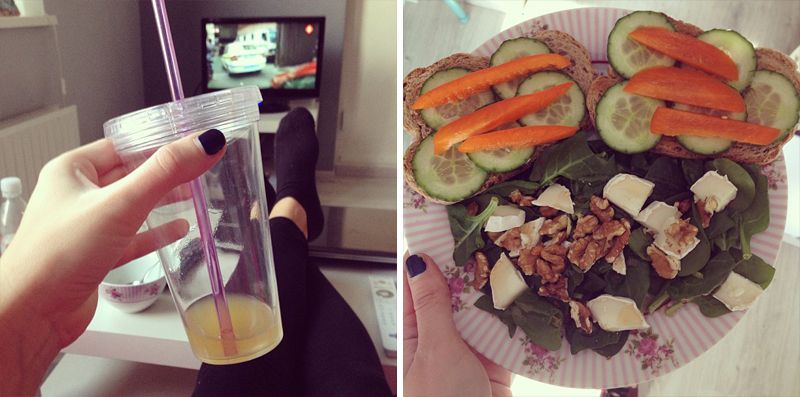 Went running for the first time in my life and after I watched the news (!!) while enjoying some coconut water/pineapple juice. 

YES, lunch time. I really enjoy lunch time, can you tell? (but not more than breakfast time though!) Spinach + goat's cheese salad and toasted spelt bread with cucumber + orange bell pepper (my fave).